Somewhere amidst all of the challenges I have set myself I decided that I would like to learn a little more about photography. When I first got my DSLR I devoured pages of photography books and spent hours just playing around with the different settings on the camera. Then I just stopped- And went back to Auto! It was that old thing of knowing just enough to get by- and doing just that. I was happy with the pictures I took, knew enough about photo editing to crop my photos and that was about that!
I still don't know what half of my settings can do-and my photos get minimal post editing as photoshop is just way too complicated- so I'm about to change and go back to basics. I have found over at kateyestudio.com, two excellent online resources- A downloadable ebook and an online course- How very exciting!
Katseye is home to the photo-heart-connection challenge that I'm taking part in, so I know that these new resources are going to be promising.
The ebook gives you all the basics-Of which I still have a lot to learn:
After going with basics I'm going to work my way through - Looking at ways to explore the world around you, with a camera in your hands.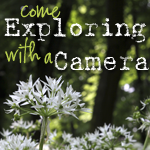 Hopefully you'll be along for the journey too- and can help me hone in my skills and share some constructive comments. We'll have to see how I get on:)
It's quite ironic too, that for someone who has just professed her weak photography skills-I'm running an after school photography club! It's just a bit of fun with our cameras, taking lots of photos and applying the basics- My 8 year olds are just happy taking silly pictures of each other- but perhaps they- and I - might learn something along the way