I really wanted to join this last month-a collection of cookies baked by bloggers- what a great idea- and so after seeing Greenthumb's beautiful cookies, here, decided that I would have a go too. The theme for this month is apples. Now apples in the UK are abundant at this time of year- it's a very autumnal ingredient- here on Borneo, it's quite a different story! We have all our apples imported from China. New Zealand, Australia and the US- It's a real hit and miss situation. However I managed to find some nice Fuji apples, that didn't cost the earth - as they often do- and decided to make these
Cinnamon and Apple cookies.
First preheat oven to 350F
¾ cup butter, softened
1 cup white sugar / + 2tbsp sugar for topping
1 ½ cup shredded apples (one very large apple or 2 smallish apples)
1 egg
1 tsp. vanilla
2 ½ cups flour, white unbleached
2 tsp. baking powder
1 tsp. cinnamon + 2 tsp for topping
½ tsp. salt
1 cup chopped nuts (note: I measure the nuts after I chop them
Cream the butter and sugar (If you're wondering why it's a strange colour- I used a mixture of brown and white sugar, although the recipe does say white!)
Add the egg and the shredded apple. Stir in the vanilla essence
.
In a separate bowl mix the flour, salt, cinnamon and baking powder.
Add the wet batter, half at a time and stir
On a large baking sheet drop a tablespoon size of batter, no more than 12 cookies to a sheet.

Sometimes it is easier to stick the batter in the refrigerator for 30 minutes.

This allows for less sticky measuring and scooping of the dough.
It is essential to bake these cookies for a full 14 minutes.

The tops will be golden.

Mushy-in-the-middle apple cookies are no good!

As long as the tops are a light gold, the cookies are fully done.
While the first batch of cookies are baking, combine the remaining sugar and cinnamon in a small bowl.

When the first cookies come out of the oven, sprinkle the tops with the sugar-cinnamon mix.

The warmth of the freshly basked cookies allows the sugar-cinnamon mix to stick!

You may also sprinkle this on before cooking- See which way you prefer!
If you prefer a softer thicker cookie then place the mixture in the fridge for a while before cooking- I had to do this as I was cooking in school- they come out very different than if you just cook them straight from the bowl- Try them and see which way you prefer- either way, the flavours are lovely:)
If you want to see what all the cookie craze
is all about have a look at -creativecookieexchange/# and follow the steps below
1. Write a blog post with recipe and original photo (please include some language here specific to that month's theme). We would like the recipe to be one you're making for the first time, and photos must be original.

2. Post the Cookie Exchange badge somewhere on your blog so others can join in the fun: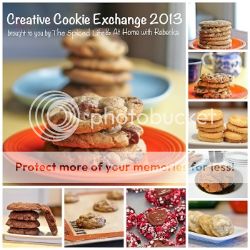 You can participate in our Link Party by baking us a cookie with apples–and keep in mind you may use ANY ingredients made from apples. Raw apples, dried apples, apple jelly, apple brandy, etc
Powered by Linky Tools
Click here
to enter your link and view this Linky Tools list...